Lightning Round
Lightning Round: Tampa Bay has come back from 3-1 before (but it has been a while)
We won't point out the fact that is hasn't been that long since the Toronto Maple Leafs were up 3-1 in a series and failed to close it out.
Instead, lets focus on the positive. Back in 2011, the upstart Tampa Bay Lightning were facing the Pittsburgh Penguins and after winning Game Two to even the series they lost the next two, including Game Four when James Neal scored in double overtime.
How did the Lightning respond more than a decade ago? By thumping the ever-loving snot out of the Penguins by a score of 8-2. Random personal memory of that game - listening to it on the radio while helping a friend paint their house.  Steven Stamkos, Simon Gagne, and Pavel Kubina all had two goals while Dwayne Rolosson stopped 31 shots.
Game Six was back in Tampa (where the Lightning had already lost Games Three and Four) and was tied in the third period before Steve Downie and Ryan Malone scored to give them the 4-2 win. Roloson was outstanding once again with 27 saves, including a save on a Chris Connor penalty shot.
Back to Pittsburgh for Game Seven. Roloson pitched a shutout with 36 saves and Sean Bergenheim scored the lone goal for the 1-0 victory.
Of course Penguins fans will quickly point out that the 2011 Pittsburgh playoff squad did not have Sidney Crosby (concussion) or Evgeni Malkin (shredded knee).
Still, the Lightning took the momentum from that series and knock off the Washington Capitals in the next round before falling to the Boston Bruins in an epic seven-game Eastern Conference Final. Since then, the Lightning have actually only been down 3-1 in a series one other time - last year's Stanley Cup Final.
Can the Lightning dial up that type of comeback? Why not? Win Game Five and bring it back to Tampa. Seed a little doubt in the minds of the Maple Leafs (who are 0-11 in series-clinching games since 2018) and then let it snowball from there.
The odds are heavily stacked against the Lightning, but I doubt they care. As a rakish scoundrel once said: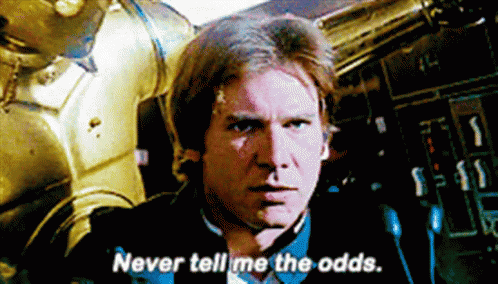 Lightning News
Lightning overtime playoff struggles never have been so glaring [Tampa Bay Times]
My theory, they used up a large portion of overtime magic in the 5-OT win against Columbus. Probably not a valid theory, but what can you do?
Andrei Vasilevskiy and the case of the troubling point shots [Rob Gherson Twitter]
Old friend Derek Lalonde dropped a little nugget of information during the Game Four broadcast concerning Vasilevskiy and his struggles with shots from the points. Rob Gherson, who runs a goalie school, throws down a long Twitter thread analyzing our favorite goalie's approach.
Gabriel Dumont suspended for two games [AHL Communications]
The Syracuse Crunch's captain was kicked out of Game Two after he kneed Filip Cederqvist. He'll now miss Games Three and Game Four (if necessary) in Rochester. Dumont had 18 goals and 21 assists in 55 games this season.
NHL / Hockey News
Cale Makar suspended one playoff game [Mile High Hockey]
Cale Makar is fun to watch and seems like an okay guy (who bears an uncanny resemblance to the Gronkowski brothers) but, wow, was this a mind-numbingly dumb hit.
Patrice Bergeron on track to return for Game 5 [NHL.com]
The Boston captain returned to practice for the Bruins and it looks like he might be able to make his playoff debut in Game Five as they look to eliminate the Florida Panthers.
How are the NHL's 10 big deadline deals faring in the playoffs [The Athletic]
Lightning fans are getting a first-hand look at how one of those deals is playing out (talking about you, Ryan O'Reilly), but the rest of the big deals have been hit or miss.
Calgary Flames working towards agreement with city for new arena [Daily FaceOff]
The City of Calgary is getting a new events center! In the project it sounds like the groundwork is being laid for the Flames to eventually get a new arena, replacing The Saddledome, which has been their home since 1983.
Prospective buyer says he was coached to skirt GTHL's rules on organization sales [TSN]
The Greater Toronto Hockey League is supposedly a not-for-profit league which means the organizations that comprise it cannot be bought or sold. A prospective buyer detailed the process by which he was instructed on how to get around those rules when he attempted to acquire the Humberview Huskies back in late 2019.
New York Islanders 3-2 over Carolina Hurricanes (Carolina leads 3-2)
Ilya Sorokin made 34 saves while Pierre Engvall, Brock Nelson, and Mathew Barzal provided the offense as the Islanders keep their playoff hopes alive.
Dallas Stars 4-0 over Minnesota Wild (Dallas leads 3-2)
Jake Oettinger made 27 stops for second career playoff shutout. Dallas takes the 3-2 lead in the series with the chance to end it Game Six.
Edmonton Oilers 6-3 over Los Angeles Kings (Edmonton leads 3-2)
Nick Bjugstad scored twice and Stuart Skinner recovered from getting pulled in Game Four to make 25 saves.